Long Lasting, Durable Windows & Doors
Aluminium Windows & Doors
Aluminium has been the choice of metal for construction for the last 90 years. The advantages of using Aluminium as a material for manufacture of windows and doors – has been diverse and had developed over the ages.
Aluminium is lightweight yet high strength to density ratio and makes it a perfect product for windows/doors. When an Aluminium system is powder-coated, the lifespan of over 30 years is achieved. And when anodized, the lifespan increases by another 5 years.
The major advantages of Winprad Aluminium Series are:
Design Flexibility – with the properties of Aluminium, it can be easily rolled, forged, and cast to make windows/ doors in different shapes, designs, and sizes. Options of hardware, accessories, and glass – makes it a lucrative framing option.
Recyclable – Aluminium windows are recyclable, sustainable and are eco-friendly building material.
Lightweight – Easier to handle. Also reduces dead load on the building.
Durable – Winprad Aluminium Series are resistant to cracks and rust. The systems are weatherproof, corrosion resistant, and UV resistant. With elongated product life, these fixtures deliver optimum performance throughout their lifespan.
Insulation – With the correct use of Thermal Break – Winprad Aluminium Series profiles are known to be one of the most energy-efficient products. Also, with Double Glazing – it saves three times more power than it used to manufacture it.
Noncombustible and nontoxic – Aluminum extrusions do not burn and do not produce toxic fumes if exposed to high temperatures. While in use, aluminum extrusions do not negatively impact the environment or the building occupants.
Resilience – Winprad Aluminium Series can be fabricated to be both hurricane and blast/impact resistant.
Safety & Security – Apart from Aluminium being a strong metal itself – there are several options to upgrade your security – like options of glazing, internal glass fitment, shoot bolt locks etc.
Maintenance – Minimal maintenance of cleaning is required.

Winprad introduces its own special Aluminium Series in both Powder coated and Anodized finish. The advantages of Winprad Series are:
Aesthetically superior to conventional 40 series Window.
Winprad Series is installed from inside the building. Hence saving scaffolding and safety costs indulged for Window installation from outside. Also, glass replacement, if required in future is easy and cheap.
The beading of Winprad series unlike the conventional 40 series is placed inside. That ensures better safety and security of the systems as the glass can not be opened from outside.
Winprad Series ensures better insulation to Heat, Sound, Dust and Rainwater ingress, than the conventional systems – due to avant-garde hardware and absolute sealing mechanisms.
Winprad Series can be used on larger apertures than conventional systems – hence may replace usage of Curtain Glazing systems and save costing of erection and maintenance.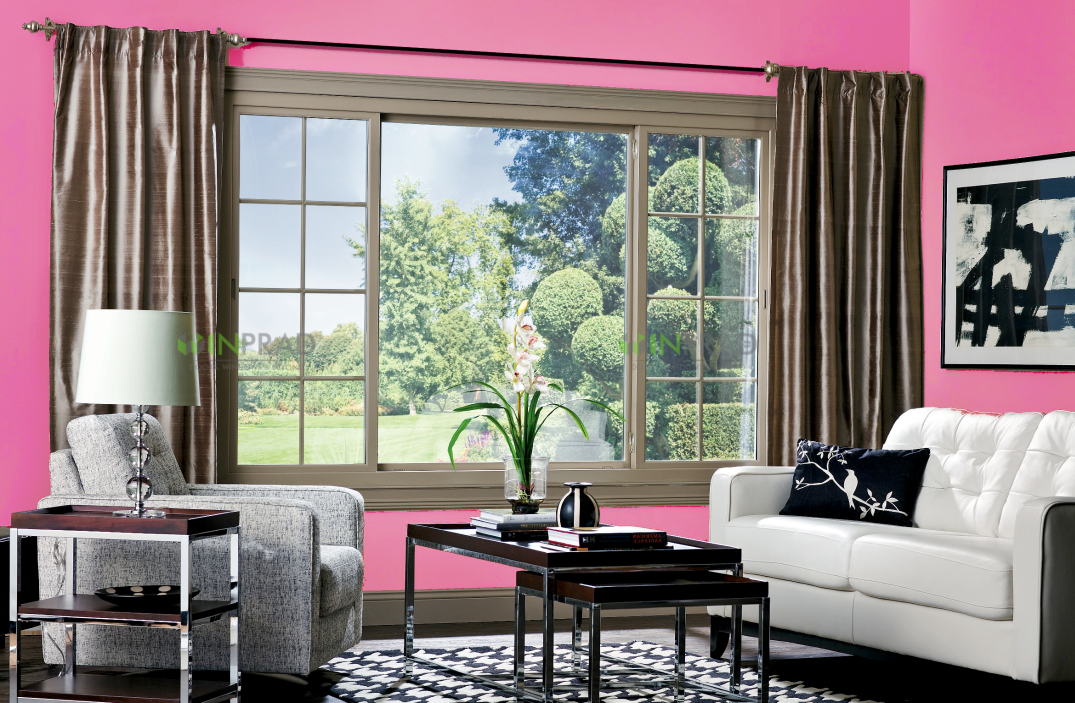 Winprad System Aluminium Offers the richest of designs and a gamut of options in terms of size possibilities, hardware, and finish.
Sl. No.
Product
Module
Application
Thermal Break
Glass In-fill
Air Permeability
Water Tightness
Wind Pressure Resistance
Cyclone Resistance
Accoustic Performance
1
THE CONTEMPORARY SLIDING SYSTEM
46mm
2, 3 or 4 tracks – 1 to 8 leaves
No
5mm to 20mm
Class 3
Class 4A
Class A5
Class 5
35 dB (RA, tr) 2-leaf window (W 1.47 m x H 1.48 m)
2
THE CONTEMPORARY SLIDING SYSTEM BIG SIZE
46mm
2, 3 or 4 tracks – 1 to 8 leaves
No
6mm to 24mm
Class 3
Class 7A
Class C3
Class 5
NA
3
THE CONTEMPORARY SLIDING SYSTEM BIG SIZE
59mm
2 Tracks – 2 to 4 Leaves
No
6mm to 32mm
300 Pa
300 Pa
2.5 Kpa
Class 5
NA
4
UNIVERSAL SLIDER
55mm
2 to 4 tracks – 2 to 8 leaves
Yes
24mm to 32mm
Class 4
Class 6A
Class B2
Class 5
34 dB (RA, tr) Patio door 2 leaves (W 2.35 m x H 2.18 m)
5
PANORAMIc SLIDING SYSTEM
126mm
2 and 3 tracks – 2 to 6 leaves
Yes/No
5mm to 39mm
Class 4
Class 7A
Class C3
Class 5
NA
6
MINIMAL SLIDER
100mm
2 and 3 tracks – 2 to 6 leaves
Yes/No
24mm to 32mm
Class 4
Class 7A
Class B3
Class 5
37 dB (RA, tr) 1 sash + 1 fixed s. patio door (W 2.8 m x H 2.2 m)
7
CONTEMPORARY WINDOW – Casement
46mm
Windows and patio doors, Single and double sash,
inward & outward opening, turn/tilt, top-hung, side-hung
No
6mm to 33mm
Class 4
Class 1050A
Class C5
Class 5
38 dB (RA, tr) – (L1.23m x H 1.48m)
8
CONTEMPORARY LOUVRE SYSTEM
63mm
Fixed /moveable.
Option frame with mosquito screen
No
5mm to 6mm
Class 2
Class 7B
Class C5
Class 5
NA
9
The Universal Window – Casement
55mm
Fixed lights, 1 and 2 leaves, Projecting top-hung, Parallel opening
Yes/No
4mm to 42mm
Class 4
Class 9A
Class C3
Class 5
40 dB (RA, tr) – 1 leaf minimal opening
10
CONTEMPORARY door – Casement
46mm
1 and 2 leaves, inward and outward opening
No
6mm to 33mm
NA
NA
NA
NA
NA
11
The heavy-duty door resistant to vandalism
63mm
1 and 2 leaves, inward and outward opening
No
6mm to 32mm
NA
NA
NA
NA
NA
12
The universal DOOR – Casement
55mm
1 Sash, inward and outward opening
Yes/No
4mm to 42mm
Class 4
Class 6A
Class 3C
NA
NA
13
SLIDING & FOLDING DOOR
75mm
3 to 10 leaves, inward and outward opening,
opening from the centre or from one side
Yes/No
9mm to 52mm
Class 3
Class 8A
Class 3C
NA
38 dB (RA, tr)
14
TILT & SLIDE SYSTEM
NA
1 Sash + 1 Fixed
Yes/No
5 to 52mm
Class 4A
E1200
Class 3
Class 6
Rw (C;Ctr): 45dB