Solutions Perfected to Your Needs
Allied Products & Solutions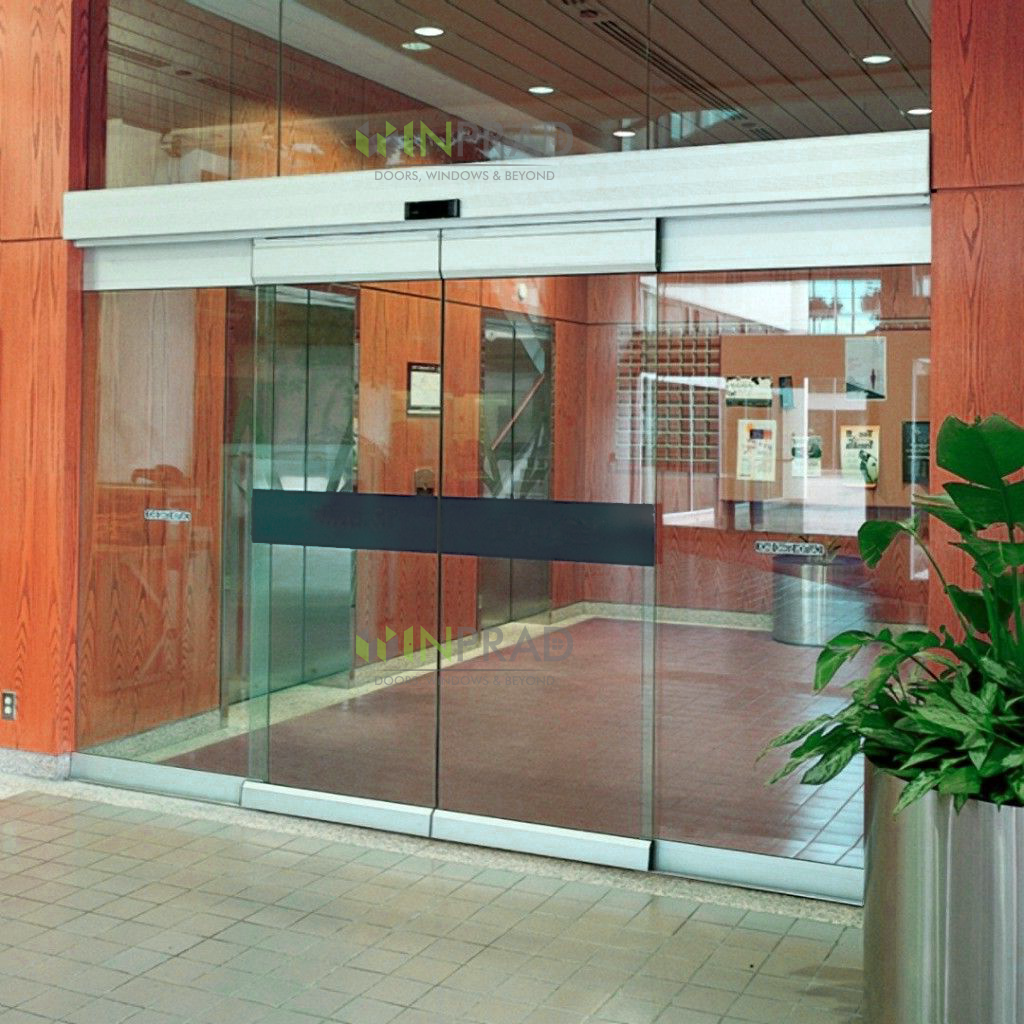 Automatic Sensor Doors
Winprad Automatic Doors use motion detection sensors or optical sensors, which are installed on the sides or on the top of the door, to trigger the opening/closing of doors. These sensors detect motion by a microwave beam (10.5 GHz) produced by an antenna that is installed on the door header and generally points in the downward and outward direction. They use infrared technology to trigger the opening/closing of doors. Sensors are connected to an electronic drive train, which is attached to the panels of the door through an auxiliary drive or cog wheel. The auxiliary drive is connected by rubber belts that regulate the opening and closing motions of the doors. At the bottoms of these doors are rollers that allow the doors to slide smoothly. Fitted with hardware from Dorma, Ozone or equivalent world-class systems.
Usage: Malls, Showrooms, Hotels, Offices.
Fully & Semi Unitised Structural Glazing System
In Winprad Unitised Structural Glazing system brackets are anchored to the column/slabs after detailed survey. The complete unit spanning floor height fully fabricated at the factory is installed on the brackets. Generally, Unitised facades are the breadth of a glazing bay and one or even two stories higher. Only 10 to 15 % of the entire work is done on site. Advantages – Unitised solutions will help contractors and architects meet the increasing demand for shorter programme times and can achieve impressive reductions in time on site of up to 70 per cent. Also, it ensures improved quality control. Because the façade panels are completed off site, and the external envelope is less affected by inclement weather.
Winprad Semi Unitized system vertical mullions and horizontal transoms are installed on brackets which are anchored to the columns/slabs. Cut to size glass is structurally glazed to the aluminum sub frame by structural sealant. The sub frame with the glass is installed on the grid work. In this system almost 50% of work is done at site. Advantages – The vertical mullions in most semi-unitized glazing systems can span two floors with ease and as a result, provide greater structural efficiency. And most semi-unitized glazing systems have shop-assembled or off-site assembled frames. This reduces the time and cost.
Usage – Commercial Buildings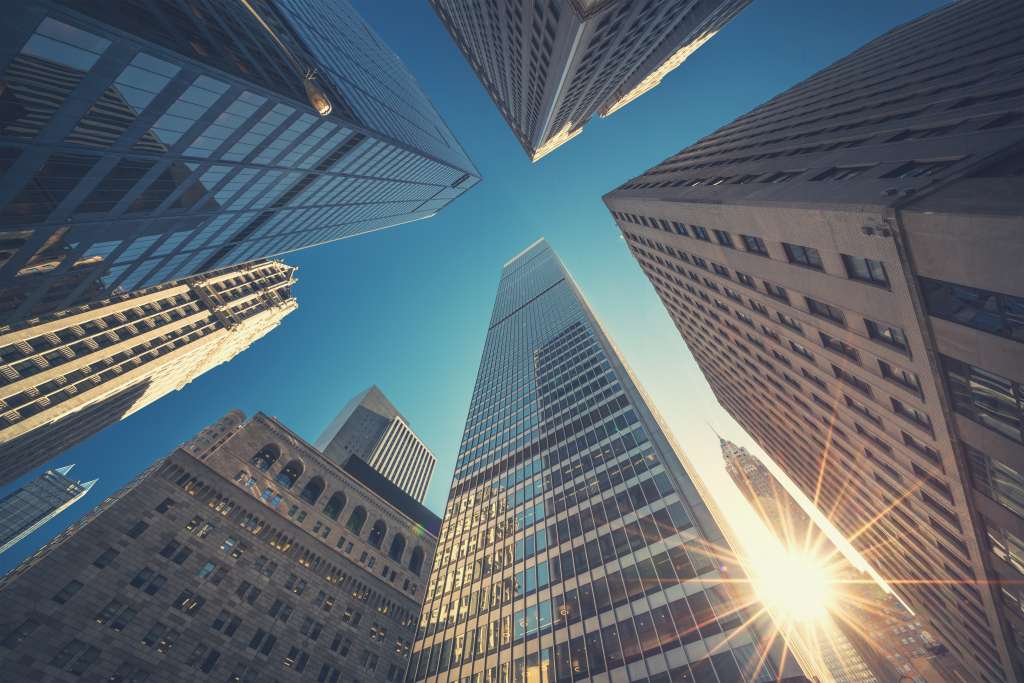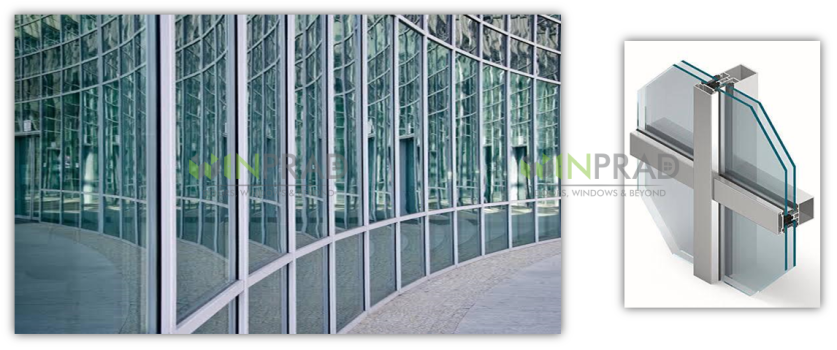 Curtainwall Glazing System
Winprad Curtainwall Glazing system is an Aluminium-framed wall, containing in-fills of glass, metal panels, or thin stone. The framing is attached to the building structure and does not carry the floor or roof loads of the building. The wind, seismic and gravity load of the curtain wall are transferred to the building structure, typically at the floor line. Face-sealed, water-managed, and pressure-equalized rainscreen systems are the three systems that are available. Normally, pressure-equalized rain screen systems provide the highest levels of resistance to air and water infiltration, with water-managed systems the next most reliable.
Spider Glazing System – Fin & Structure
The Winprad Spider Glazing is a part of the frame-less glass system where they provide a flush external appearance with uninterrupted views. Spider Glazing curtain walls provide maximum daylight for building interiors, as well as the possibility of placing large transparent glass surface as building envelopes. They are majorly for double height facades. And installation can happen with or without metal structure.
Some important characteristics of Winprad Spider Glazing System are:
Spider glazing is a very flexible and contemporary design medium that can create designs with vast expanse of glass, frame-less entrances, and canopies.
All doors and windows can be inserted in the spider glass area.
Tempered or heat-soaked glass can be used in spider glazing systems to have the performance of a safety glass facade. The glass thickness that is used is usually 12mm thick.
The spider glazing is designed to resist wind pressure. It can be fixed with either 2-way spiders or 4-way SS spiders fitting options. Fin glass support could also be used to resist wind pressure.
Silicone Sealants and gaskets are used to make the glass frames watertight.
Allows full penetration of natural light into the interiors, certain types of glass prevent the absorption of UV light.
Spider glazing is easy to install and maintain.

Cladding System
The Winprad Cladding System is a great way to protect a building from adverse weather elements, heat, and water – yet render high aesthetics and acoustic barrier to the building. Wall cladding is the process of layering one material on top of another material which will create a skin layer over the walls. Depending on the requirement and specifications, different types of materials and systems can be used – as described below: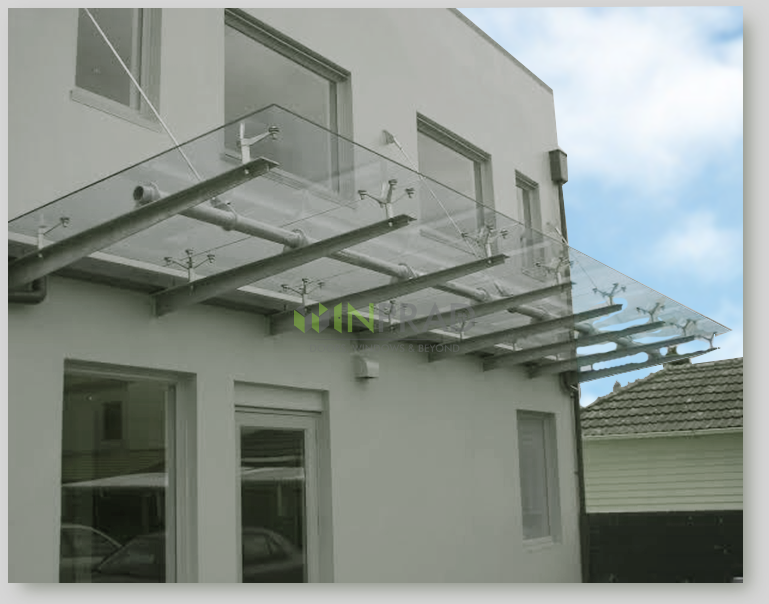 Glass Canopy System
Winprad Glass Canopies provides an attractive and practical feature to a building. Usually placed outside entrance doors a canopy protects people entering the building, keeps the weather away from the doors and allows natural light through to the entrance area. Canopies that project from buildings are subject to wind and snow loads and it is therefore important to determine the correct strength of glass to be used. Our DBS Team can provide calculated glass thicknesses for framed rectangles or corner bolted toughened glass constructions if provided with the snow load and design wind load for the location. Also, it reduces the need for cleaning exterior glazing through a dual-action coating. It uses daylight and rain to break down and wash away organic dirt. They are framed with either MS or SS Structures and use 12mm Toughened or Laminated Glazing.
Partitions and Railings
Glass Partition – Patch Fitting & Aluminium Frame
These are Glass Walls made as partition to the interior of a building. There are two major types of the same – with Patch Fitting i.e., Frameless Glass partitions and the other one with Aluminium Frames. The advantages of Glass Partition are:
They allow transmission of ample light hence increasing usage of natural light.
Create distinct but open work areas or 'pods' to give a sense of definition and differentiation to spaces without affecting the 'open plan' feel of an area.
Since thicker toughened glass bad thermal conductors – they help in conserve energy.
Reduces ambient noise providing improved acoustics.
Adds high aesthetics. Glasses can also be etched or frosted to create value and ensure privacy.
Low maintenance – only cleaning.
Glass is a readily available and cost-effective material. It is also quite easy to install and take down, saving considerably on building costs, especially when it comes to redesigning a space.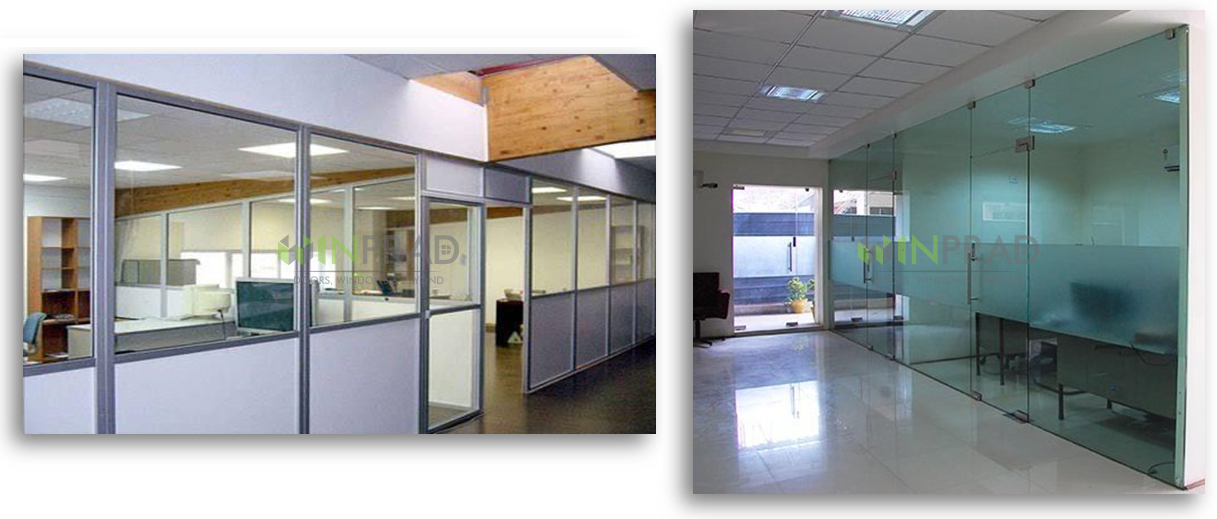 Railings – SS Railing and Glass Railing
Traditional railing options can close off space, making it appear smaller and claustrophobic. But SS and Glass railing from Winprad will open your space, giving you clear, bright, gorgeous views. It is the ultimate modern railing option. Major types of Glass Railings – with or without SS Fittings:

Usage – Stairs, Decks, Roof of any Building.

Glass Pergola
A pergola is an outdoor feature forming a shaded room, walkway, passageway, or sitting area of vertical posts or pillars that usually support crossbeams and a sturdy open lattice. Winprad Pergola Systems are made of MS or SS Structure covered with Glass or Wall on 4 sides and with Roof Glazing as well. The Roof Glazing can be supported with Spiders or Metal frames – as per specification.
Roof Glazing provide ideal acoustic properties, meaning less noise will be made during heavy rainfall
Completely clear material results in great opportunities to view the outside world
Clean, polished appearance brings a classy look to the property